The return of glamorous leather gloves
"
I love to design gloves, I love to enhance elegance.

"
♰ Ines van den Born
Founder & gloves designer and equal rights activist.
1947-2022
Ines History
Chapters of a life story
Who was this quirky, smart and a little naughty but always elegant lady? 
"I was born and raised in an elegant time - a time that makes you reminisce of days when people always wore leather gloves in Le Métro de Paris, or strolling around the center of Amsterdam or Florence on Sunday afternoons."
"
Let's bring back elegance, one glove at a time.

"
"
My first design? I just bought a pair of gloves and cut off the fingers.

"
First design
Ines started to craft her own gloves at the end of last century when she realised she could not find what she wanted and needed anymore.

A pair of gloves like the ones she used to know - simple, timeless and perfectly fitting.

An elegant second skin for her hands and arms instead of the common, tired and unglamorous gloves she was finding everywhere.
Something of beauty.

She bought a piece of chamois leather at a fabric store, a few old books to learn the basics and so she sewed her first pair at home on a Singer sewing machine.

But her real first design was a pair of gloves she got from a local warehouse and then just cut off the fingers.
Amsterdam around 1996 | Ines' first design - "I just bought a pair of gloves and cut off the fingers."
The Hague - 1950's | Each year luxurious department store Meddens opened by appointment for Ines and her family to get bespoke leather gloves.
Amsterdam 1999 | A rare picture of Ines sewing a new prototype in her atelier.
Ines Head office | Canals of Amsterdam.
Amsterdam, Vondelpark 2001 | Did you know: Ines also used to design leather inspired jewelry.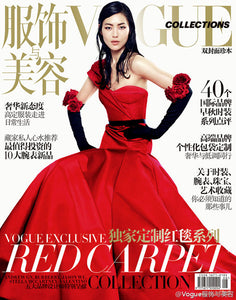 Vogue China - Red Carpet Edition | First feature in China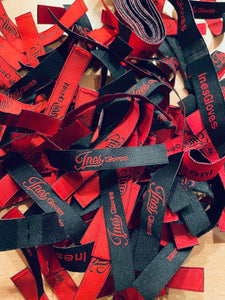 Old Ines Gloves logo/label.
"
Especially sexy when a man dresses feminine

"
HIGHLIGHT
Conchita Wurst, Pride Amsterdam
Style: Ferry van der Nat
Photo: Philippe Vogelenzang
"
Elegance is to stay true to yourself and treat others as you want to be treated.

"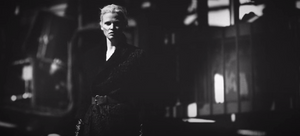 Highlight
Lara Stone by Peter Lindbergh
Big project from Vogue Nederland, part of the Collector's Issue, 2016.
Styled by: Julia von Boehm
Watch the video.
"The joy and pleasure of wearing my own gloves is incredible. That feeling of sensuality and elegance...This is what I want to share with my customers too."
Highlight
Victor & Rolf Mariage FW22 Collection
"
One of the greatest perks of working with amazing artists, talents and visionaries is the thrill to be able to play a small part in helping their vision come alive.

"
Over the years
Collaborations & Celebrities
Here's but a small selection of some of our favorite moments, photoshoots, designers, travels, adventures and chapters of Ines' history - throughout the years and from all over the world.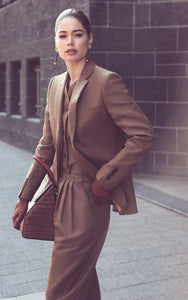 Shot for Telegraph magazine 2019 | Doutzen Kroes wears Burberry and Ines Gloves. Styling: Jetteke van Lexmond. Photo: Paul Bellaart 
Amsterdam 2019 | How to stand out from the crowd. Doutzen Kroes for Telegraph magazine by Paul Bellaart.
Florence, Italy 2019 | Behind the scenes campaign shoot.
2008 | "When Patricia Field reached out to us, I was exciting to hear the Half Scoop gloves would be featured in Sex & The City the movie."
Amsterdam 2016 | AFW - Blueblood x Ines.
UK 2009 | Chanel Iman and Jourdan Dunn wearing Ines, styled by Edward Enninful for i-D magazine.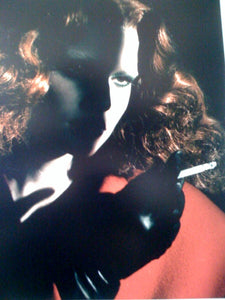 Vogue Italia, 2009 | Lara Stone captured by Paolo Roversi styling by Edward Enninful.
Amsterdam 2017 | Campaign shoot.
A gift from a customer - illustration by Hilbrand Bos
HIGHLIGHT
Ronald van der Kemp | Paris 2023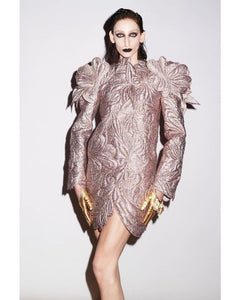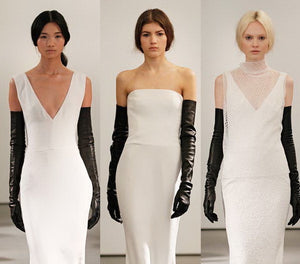 USA 2009 | A little story behind our collaboration: "Vera Wang and I have got more in common: I was unable to find the gloves I liked and started to make them myself. Vera was unable to find a dress for her own marriage and sketched her own design."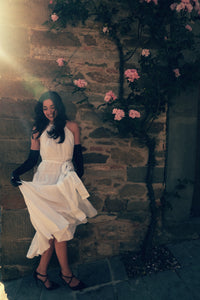 Florence, Italy 2019 | One of our favorite locations for campaign shoots, a source of endless pleasures.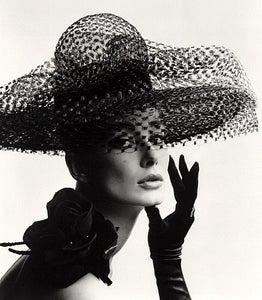 Elegance, seduction, inspiration.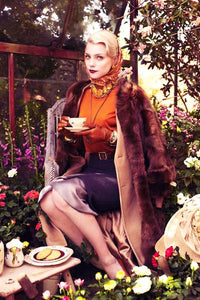 2009 | Harper's BAZAAR.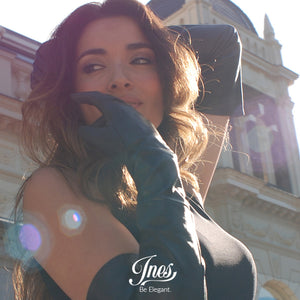 Amsterdam 2016 | One of the first campaigns with Kim Kiona shot in the Vondelpark.
Highlight
Vogue Arabia 2019
"
Thin and unlined leather gloves, gloves as they are meant to be.

"
Ines passed away
Bob, son of Ines
One day in the late 1990s, my mother said to me:
"I am going to start an online shop for fancy leather gloves and you'll take the pictures!"

At that time I (Bob, son of Ines) studied photography at the School of Arts in Amsterdam and on this day I still take all images of our gloves in the studio and on location.

For years I worked as a location scout for television and film, but I was always involved in my mothers company.
About 7 years ago Ines Gloves grew so big, I joined my mom on a daily basis.

I live in Amsterdam with my daughter Anna and my office/studio is the same as Ines used to work in.
And thats really inspiring surrounded by all the images, books, hides, prototypes, swatches, etc. that she gathered around her all those years.

I learned a lot from her about chocolate, leather, girlfriends, men, gloves, MM's, elegance and running a passionate business.

Even though I feel sad about her passing, its a great feeling of pride that I can keep continuing the legacy of a special human-being who, brought back those classic gloves, inspired and made thousands of people happy all around the world.

I'll move on with the Ines Gloves keeping her spirit alive.
There are a lot of stories to tell and insights to give.
And I'll make sure that you can keep on enjoying Ines' elegant leather gloves that fit like a second skin.
Let's make the world a little more beautiful.
Greetings from Amsterdam,
Bob, son of Ines
Find your gloves