"What is the right occasion to wear leather gloves? Always, always wear gloves."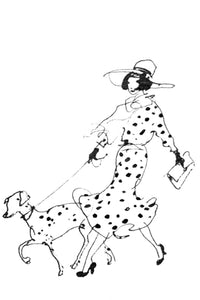 INES' GLOVE ETIQUETTE WITH A MODERN TWIST
Glove Etiquette Explained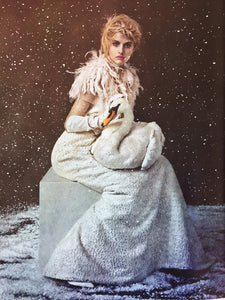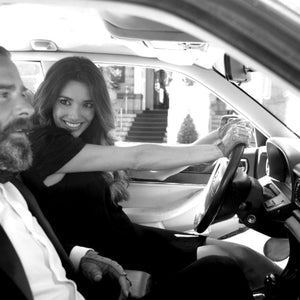 When, where and how to wear leather gloves?
In any and every historical times gloves made their own unique statement.
We all have heard of the famous white glove test for cleanliness;
a lady in waiting had to remove her gloves in the presence of the Queen and those lower in position would need to remove their gloves for her.
Slapping with a glove was an insult, paying homage was done on a bent knee with the offer of a glove and tossing a glove at the foot of the enemy was a challenge.
Formal glove etiquette
Today there is still a glove etiquette to keep in mind.

Ines has her own idea of glove etiquette as you can read below,  but in case you would like to follow classic indication, here's some:


Gloves should never be worn when drinking, smoking, playing cards or putting on make-up.
Gloves should be worn rather than carried.
Never wear rings over gloves.
Short gloves are appropriate and elegant for cocktail parties.
At informal occasions gloves should be removed upon arrival and left with the coats at the cloakroom.
Short gloves should not be worn to a "white-tie" event, court presentation or gala ball.
Formal events require gloves that are at least past elbow length.
Weddings
The traditional bridal glove is white and the length is 25.6" (65cm.).
Gloves should remain on during greetings.
Unless it is an informal summer wedding, long gloves are a signature accessory for brides.
The mother of the bride should never wear white long gloves.
When to wear gloves
Perfect occasions to wear gloves include:
Shopping

Public transport

Driving

Biking

Visiting

Garden parties

Formal indoor events

Reception

Dancing at (formal)parties

Weddings

As a bride
INES' GLOVE ETIQUETTE WITH A MODERN TWIST
Times are changing, wearing gloves has become more of a fashion attribute in European modern times.
We believe elegance is timeless and next to quality of the leather and its craft the essence lies in the personality, style and flair of every individual.
Thats why Ines always says:
"Whatever the occasion, always, always wear gloves".
When shaking hands at a reception.
On the dance floor.
While drinking and smoking.
In the bedroom.
When you sit down to dine, if you remove your opera gloves then you should take them off in a seductive and elegant way.
Think about colors, combinations and contrast.
Black long leather gloves can look amazing combined with a white wedding gown.
Long gloves can be worn crunched down following the natural movement of leather, be creative.
If you feel like it, wear gloves.


Read more about Ines' story:
Let's make the world a little more elegant 


The personality of gloves
Different types of gloves inspire their own personality.
Enchanted evenings are characterised by long opera gloves while garden parties bring to mind shorter gloves.
In the cold weather, cashmere lined leather gloves offer a fashionable feeling of comfort and warmth.
During travel, washable Peccary leather and simple short black kid gloves look great with any outfit.
Certain sports are characterised by their own types of gloves.
For example riding gloves are made of plain chamois or brown leather while golf gloves are a half-glove with exposed fingertips made from fine capeskin.
Collecting gloves
Collect gloves for formal wear, sports and different weather conditions so you always look fashionably finished when you get dressed.
As occasions and holidays pass, your glove collection will become more exciting and eclectic.
Ines' collection of leather glove designs is a result of years of fascination and dedication.
If you want to know more about Ines her thoughts and ideas about modern glove etiquette, read the insights from Bob, owner and son of Ines.
Classic elegant thin leather gloves, redefined by Ines
Handcrafted in limited quantities.
Available first to our list of clientele.
Join Ines
Beloved by many, owned by few