SAFE PAYMENT
Ines Gloves official currency and invoicing is € Euro.
For non-Euro countries, the exchange rate depends on the credit card.
We accept credit cards, iDeal and online payment services like Paypal, Apple Pay, Google Pay and Amazan Pay amongst others, through our server hosted by our partner Shopify.
This payment system ensures secure transactions which, thanks to a certified system based on SSL 128 bit encryption protocol, guarantee the security of online transactions and information.

We also accept money transfer to our bank account.
After you submit your order online, you will receive instantly the order confirmation with our bank account number, IBAN and BIC/SWIFT.

Bank Account:
INES GLOVES WORLDWIDE
Bank: ABN AMRO
Account number: NL12ABNA0598578323
IBAN: NL12ABNA0598578323
SWIFT/BIC: ABNANL2A


PRICES
The prices on the product pages are including worldwide express courier, shipping by registered mail and including any tax and import duties.
According EU regulations, if applicable, Dutch VAT of 21% is applied.
You can select your currency from the currency converter in the top menu of the page, all of our default € prices will also be displayed in selected currencies.



LEGAL SECTION
Products
Ines Gloves has endeavored to display and optimize the visibility of the products and colors featured on the site as accurately as possible.
However, the display of product colors depends on the user´s monitor, and Ines Gloves cannot guarantee that your monitor displays the colors of products accurately.

Disclaimer
Ines Gloves undertakes to render as accurate and exact a service as possible; however, technical, factual and/or printing inaccuracies and errors may inadvertently occur.
Ines Gloves reserves the right to make changes and corrections to the site whenever this is necessary, without advance warning.
Please note/ important:
We strongly ask you to write down the correct delivery address.
Ines gloves is not responsible for undeliverable goods due to your incorrect entry of delivery address.
In this case you cannot claim any compensation and/or refund if the goods did not arrive.
You are responsible for possible import VAT charges in your own country.
Legal contact
Ines Gloves Worldwide
Sarphatistraat 37-3
1018EW Amsterdam
The Netherlands

PRIVACY POLICY
This Privacy Policy describes how your personal information is collected, used, and shared when you visit or make a purchase from www.inesgloves.com (the "Site").
Privacy
We use cookies to be able to process your order.
Under no circumstances, the personal data provided by users will be communicated to third parties or otherwise disclosed.
The only exception is the data handled directly in connection with deliveries.

We use cookies and devices-id's to personalize content and advertisements, to provide social media functions and to analyze our website traffic. We also share information about your use of our site with our partners for social media, advertising and analysis. These partners may combine this information with other information that you have provided to them or that they have collected based on your use of their services.

GOOGLE ANALYTICS
We use Google Analytics to improve the website experience.
Learn more about Google Analytics here:
https://policies.google.com/privacy/partners?hl=en

PERSONAL INFORMATION WE COLLECT
When you visit the Site, we automatically collect certain information about your device, including information about your web browser, IP address, time zone, and some of the cookies that are installed on your device.
Additionally, as you browse the Site, we collect information about the individual web pages or products that you view, what websites or search terms referred you to the Site, and information about how you interact with the Site.
We refer to this automatically-collected information as "Device Information".

We collect Device Information using the following technologies:
- "Cookies" are data files that are placed on your device or computer and often include an anonymous unique identifier.
For more information about cookies, and how to disable cookies, visit http://www.allaboutcookies.org.
- "Log files" track actions occurring on the Site, and collect data including your IP address, browser type, Internet service provider, referring/exit pages, and date/time stamps.
- "Web beacons", "tags", and "pixels" are electronic files used to record information about how you browse the Site.

Additionally when you make a purchase or attempt to make a purchase through the Site, we collect certain information from you, including your name, billing address, shipping address, payment information (including credit card numbers, bank account number, payment gateway id's), email address, and phone number.
We refer to this information as "Order Information".

When we talk about "Personal Information" in this Privacy Policy, we are talking both about Device Information and Order Information.

HOW DO WE USE YOUR PERSONAL INFORMATION?
We use the Order Information that we collect generally to fulfill any orders placed through the Site (including processing your payment information, arranging for shipping, and providing you with invoices and/or order confirmations). Additionally, we use this Order Information to:
- Communicate with you;
- Screen our orders for potential risk or fraud; and
- When in line with the preferences you have shared with us, provide you with information or advertising relating to our products or services.

We use the Device Information that we collect to help us screen for potential risk and fraud (in particular, your IP address), and more generally to improve and optimize our Site (for example, by generating analytics about how our customers browse and interact with the Site, and to assess the success of our marketing and advertising campaigns).

CURRENCY CONVERSION
"By using our website, you (the visitor) agree to allow third parties to process your IP address, in order to determine your location for the purpose of currency conversion.
You also agree to have that currency stored in a session cookie in your browser (a temporary cookie which gets automatically removed when you close your browser). We do this in order for the selected currency to remain selected and consistent when browsing our website so that the prices can convert to your (the visitor) local currency."

ADVERTISING/RETARGETING
The Site collects data for Facebook Display and Search and Display Remarketing. This includes data from Google's signed-in users who have chosen to enable Google to associate their web and app browsing history with their Google account, and to use such information from their Google account to personalize ads.
Google Analytics temporarily joins these identifiers to our Google Analytics data in order to support the visitors.

SHARING YOUR PERSONAL INFORMATION
We share your Personal Information with third parties to help us use your Personal Information, as described above.
For example, we use Shopify to power our online store--you can read more about how Shopify uses your Personal Information here: https://www.shopify.com/legal/privacy.
Reed more about how Facebook handles its data here:
https://www.facebook.com/policies/cookies/
We also use Google Analytics to help us understand how our customers use the Site -- you can read more about how Google uses your Personal Information here: https://www.google.com/intl/en/policies/privacy/.
You can also opt-out of Google Analytics here: https://tools.google.com/dlpage/gaoptout.


Finally, we may also share your Personal Information to comply with applicable laws and regulations, to respond to a subpoena, search warrant or other lawful request for information we receive, or to otherwise protect our rights.

BEHAVIOURAL ADVERTISING
As described above, we use your Personal Information to provide you with targeted advertisements or marketing communications we believe may be of interest to you. For more information about how targeted advertising works, you can visit the Network Advertising Initiative's ("NAI") educational page at http://www.networkadvertising.org/understanding-online-advertising/how-does-it-work.

You can opt out of targeted advertising by using the links below:
- Facebook: https://www.facebook.com/settings/?tab=ads
- Google: https://www.google.com/settings/ads/anonymous
- Bing: https://advertise.bingads.microsoft.com/en-us/resources/policies/personalized-ads

Additionally, you can opt out of some of these services by visiting the Digital Advertising Alliance's opt-out portal at: http://optout.aboutads.info/.

DO NOT TRACK
Please note that we do not alter our Site's data collection and use practices when we see a Do Not Track signal from your browser.

YOUR RIGHTS
If you are a European resident, you have the right to access personal information we hold about you and to ask that your personal information be corrected, updated, or deleted. If you would like to exercise this right, please contact us through the contact information below.

Additionally, if you are a European resident we note that we are processing your information in order to fulfill contracts we might have with you (for example if you make an order through the Site), or otherwise to pursue our legitimate business interests listed above. Additionally, please note that your information will be transferred outside of Europe, including to Canada and the United States.

DATA RETENTION
When you place an order through the Site, we will maintain your Order Information for our records unless and until you ask us to delete this information.

CHANGES
We may update this privacy policy from time to time in order to reflect, for example, changes to our practices or for other operational, legal or regulatory reasons.

MINORS
The Site is not intended for individuals under the age of 16.

CONTACT US
For more information about our privacy practices, if you have questions, or if you would like to make a complaint, please contact us by e-mail at info@inesgloves.com or by mail using the details provided below:

Ines Gloves Worldwide
[Re: Privacy Compliance Officer]
Sarphatistraat 37-3
1018EW Amsterdam
The Netherlands

-----
Any disputes arising out of the use of this website, services and products are governed by Dutch law 
© 2023 Ines - All Rights Reserved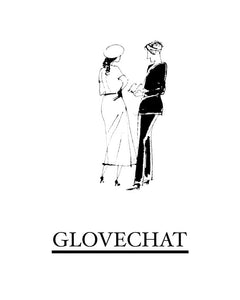 For the love of glove 
We believe that wearing gloves enhances the elegance of anyone and every body, makes the world more beautiful and gives us great pleasure.
Glovechat isn't just about fashion and gloves.
Members of our community are dedicated to discussing everything about elegance, style, and the things that make life beautiful and exciting.
request an invite link
For me?
Glovechat is a private online inclusive community for any gloves enthusiasts wanting to share their passion.
Surround yourself with like-minded people.
Fashion or kinky orientated, its all fine.
We learn from each other.
Beta testing
A selection of enthusiasts have received a special personal early bird invite link.
And started to populate the community. After a few months Glovechat is now open.
What's included
Access to a private open-minded forum combined with a modern social media platform
Build relationships with other like-minded people
Be yourself
Share stories, images and videos
Q&A about gloves and style
DIY share ideas, tips & tricks
Styling section
Second hand Marketplace
Chat (also private)
Start a (private)group
Kinky section
Share knowledge, gain insight, and seek styling advice from members of the community.
Future ideas: invitations to meetups and events.
Join us and be at the forefront of building a new and exciting community!
Up untill now:
Total messages
522
Total subjects
59
Total users
135
Our newest member is
@RT
Request an invite link
"
It's the best place to talk about our favorite accessories

"
"
I like the idea of a place where people with a mutual appreciation for things can share ideas and experiences

"
"
Show off, and look and learn, about style and finesse, in an understanding and Liberal community that knows no boundaries

"
"
It's a place to see others who love gloves without having to be ashamed or afraid.

"
"
Learning and sharing about wearing gloves

"